Elizabeth Crosses presented to Oxfordshire families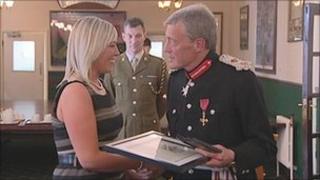 Two soldiers who were killed in service have been honoured at a ceremony in Oxfordshire.
The Elizabeth Cross was presented to the wives of Warrant Officer Charlie Wood and Sapper Thomas Tweedy.
The sterling silver emblem is granted to the armed forces' next of kin to mark their loss.
A memorial scroll signed by The Queen was also presented at the ceremony held at St David's Barracks, Bicester.
Warrant Officer Charlie Wood was killed in a bomb blast in Helmand Province last December.
WO Wood, 34, was the first soldier from 23 Pioneer Regiment in Bicester to be killed in Afghanistan.
'Great honour'
His wife Heather, who collected the medal, said: "I'm very proud to have been his wife.
"You never think it's going to happen to your soldier.
"When you understand what it represents and what it means, it's a great honour to receive something like this."
Sapper Tweedy's wife, Jan, collected the Elizabeth Cross on behalf of his family.
The soldier was serving in Northern Ireland when he was shot in the neck and severely paralysed. He passed away at home in Amersham on Christmas Day 2008, aged 60.
The decorations and memorial scrolls were presented by The Lord Lieutenant of Oxfordshire, Mr Tim Stevenson OBE.