BT Infinity advert singer Allie Moss to play Wendlebury Village Hall gig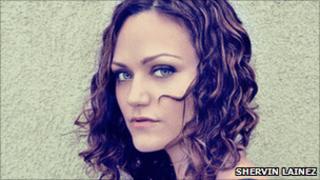 A singer-songwriter from New Jersey has agreed to play a small gig in Oxfordshire after a member of the village club committee heard her music in a TV advert.
Alan Rumsey, 57, from Wendlebury, contacted Allie Moss on Facebook because he liked a song called Corner used in an advertisement for broadband service BT Infinity.
To his surprise she replied and agreed to play the 80-capacity venue.
Mr Rumsey said: "I thought if you don't ask you don't get. Quite frankly it's like Christmas has come early in May."
Allie Moss said: "I was sitting in my dining room in New Jersey when I received the most massively charming (and wonderfully English) e-mail from Alan from Wendlebury, inviting me to play a show that he would host at the village hall.
"I've been to London many times, but have yet to see much of the beautiful English countryside so it seemed like an opportunity I wouldn't want to miss."
Acoustic performance
It was after searching the internet for the song and watching a YouTube video of Ms Moss performing at The BT Tower that Mr Rumsey decided she would be the ideal act to play the village venue.
He said: "I told her a little bit about the village and the fact that we have no outside supporting funds and why we do these fund-raisers."
The acoustic performance is sold out, mainly to residents of Wendlebury and the surrounding villages.
Allie Moss begins a UK tour with a show at London's Apple Store on 12 May. She releases her album Late Bloomer on Monday.
The fundraising gig at Wendlebury Village Hall takes place on Saturday 14 May.