South Oxfordshire election count 'was a shambles'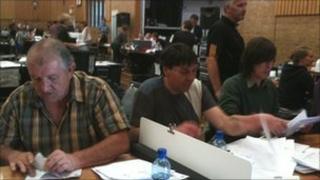 Elections in South Oxfordshire were a "shambles" say councillors who want the Electoral Commission to investigate.
Complaints include claims the election count took too long, ballot papers were badly labelled and postal votes failed to arrive.
Watlington parish councillor Tim Horton said he has written to the commission.
Returning officer David Buckle said a "thorough review" would be carried out but rejected claims there were problems on election day itself.
Mr Buckle, who is also chief executive of the council, said: "As far as I'm concerned it wasn't a disaster and nothing went wrong."
However, he accepted the 15 hour count was longer than expected, but that it was because of the Alternative Vote referendum and a larger number of parish council elections than other districts in Oxfordshire.
He also conceded there were problems in the lead up to the election day.
'Led from behind'
"This time we appear to be getting more phone calls saying poll cards and postal votes hadn't arrived and I need to understand why that was the case," he said.
Ann Ducker, Conservative leader, said the way it was conducted was "horrendous."
And ex-Liberal Democrat mayor of Henley, Barry Wood, said: "The shambles started many weeks before.
"I think what we've got is a problem of organisation of logistics and really the chief executive led from behind."