Domesday Reloaded in Oxfordshire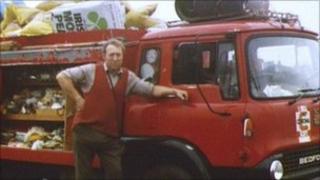 Mobile shops were frequently mentioned by school children across Oxfordshire in the BBC's Domesday project of 1986, but 25 years later they are a rare sight.
The country was surveyed by schools and local groups in an attempt to recreate the original Domesday Book published under the reign of King William I in 1086.
The recently recovered data revealed that mobile shops were a common sight, with mobile fishmongers, bakers, butchers and green grocers a regular part of village life.
Basil Pratley was interviewed for the original survey. He and his wife Teresa, from Milton-under-Wychwood, began their mobile business in 1966.
They delivered to around 50 villages a week for 35 years.
To mark the Domesday Reloaded project the BBC caught up with Mr Pratley again. Now 71, he said: "Everybody knew one another in all the villages you went to. Everybody was so friendly.
"There weren't many people I didn't know. They were all so kind and made cups of tea and things like that. It was more like a family outing for me."
The products on sale from Mr Pratley's vehicle came in all shapes and sizes, from dustbins to crockery, flowers to toilet roll, not to mention paint and gardening equipment.
Gradual decline
The Pratleys also sold around 300 gallons of paraffin a day.
Mr Pratley said: "It didn't matter what the weather was like, I went everyday.
"In the winter I used to travel across the fields to get to the customers when the snow was so bad.
"I even went out on Boxing Day."
But the times began to change. As cars became more prevalent, gas and electricity replaced paraffin and some of the older people who relied on the service passed away the Pratleys saw a gradual decline in the need for a mobile van.
By the time they retired in 1999 they felt some of the the villages had changed beyond recognition.
Mrs Pratley, also 71, said: "It's a great shame. The villages were full of shops.
"But they built housing estates on every corner of the village, on every little garden."
Mr Pratley added: "They're not like communities any longer. The atmosphere has changed so much.
"Everyone now has to go to work because the cost of living is so expensive.
"Years ago the old ladies didn't go out to work, they were all at home. Or if they'd gone out for the day on the bus, the door was left open. A note and the money was left on the table.
"It's impossible to imagine what it would be like now to what it was then."
Big sellers
But Becci Cox, 33, from Didcot, decided that a mobile shop was still a viable way to make a living.
Her mobile grocer van is a converted minibus which stocks essentials like fresh bread, local organic vegetables and meat, soft drinks and even pet supplies.
She said: "It just seems there's a lot of places with post offices closing down and no little shops anymore. Once one goes the rest peter out which is a shame.
"It occurred to me that this is obviously an old idea and lots of people used to do this kind of thing so why not give it a go?
"So I got the van and set up on my own."
Ms Cox said much of her custom has come through word of mouth, with customers including people who do not own cars and children who save their pocket money up to buy snacks.
She said: "I thought the fresh stuff would be the majority of the van but there's chocolate fiends that come. Chocolates and biscuits and cakes are big sellers and that surprised me.
"You also come across quite a lot of walkers doing the Ridgeway and things and they tend to pop in."
"At the minute it's keeping itself afloat providing the van doesn't break down."
Whilst admitting surprise that Ms Cox had entered the mobile van business the Pratleys had plenty of advice for her.
"Pay all your bills on time," Mr Pratley said. "Get as much discount as you can."
Mrs Pratley added: "We spent our whole life negotiating the best possible price. We paid on the nail and got massive discounts for doing that and that's why we stayed in business."