Cricket ball from RAF Brize Norton goes on Afghan tour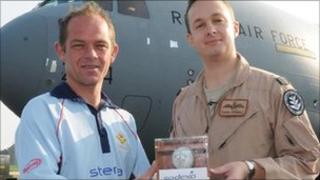 A cricket ball from Brize Norton in Oxfordshire has been sent on a tour of Afghanistan in aid of Help for Heroes.
It left the RAF airbase on 20 April, on board a C-17 aircraft.
The ball's first role in the challenge was in a cricket match between a British and Australian team against a team of Afghan personnel.
Cpl Paul Tayler, who helped organise the tour, said: "It's taken off really quickly and it's been really enjoyable."
He and Flt Lt Paul Watson had the idea as a way to promote station and service cricket while raising money for their chosen charity.
Flt Lt Watson said: "Cricket isn't as popular as football or rugby on the base but we have about 50 players of varying standards."
Their side plays against neighbouring RAF teams, including Benson and Lyneham, in what they have called the London League.
'Smallest cargo'
The ball will spend time with the Royal Marines at forward operating bases and will be taken in an armoured vehicle with an RAF Regiment Squadron before returning to the UK.
A team of 10 cricketers from the base will then cycle to Lords Cricket Ground, a journey of some 90 miles (145km), to deliver the ball in time for the opening game of the Inter Service Twenty/20 match.
Flt Lt Chris Powell, a pilot on 99 Squadron, said "C-17 aircraft are well known for taking much needed and often large amounts of equipment to theatre so, in terms of size, this is probably one of the smallest pieces of kit we have ever had to take.
"That said, it's great to be involved with something like this and to hopefully raise money for a very worthwhile cause."