Oxford's BMW Mini shift changes lead to job losses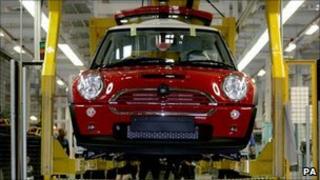 New shift patterns at the BMW Mini plant in Oxford will mean that 80 agency staff will lose their jobs.
The management said it has introduced shorter shifts in order to make the production of the Mini more flexible.
Agency staff, which make up 700 of the plant's 3,700-strong workforce, will be given notice when the changes come in on 6 June, it added.
A union representative said: "BMW... are in a volatile market and it is a supply and demand issue."
He added that staff had been told that the earthquake in Japan had affected orders which meant that there had been a dip in demand for the car.
The company said that the Mini is built to order rather than kept in stock.
"The plant has to be able to meet the different ordering patterns of customers in more than 90 countries around the world," said a spokesman.