Treatment blow for MBE cancer man Clive Stone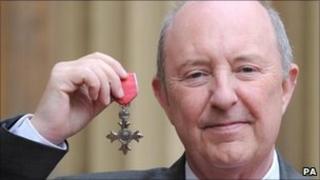 A campaigner has been told he might not get treatment that could prolong his life - days before being made an MBE for services to cancer patients.
Clive Stone, 63, from Freeland, Oxfordshire, has been given the award for helping to get the kidney cancer drug Sunitinib available on the NHS.
But his cancer has now spread to his brain and he needs a procedure which his local NHS does not provide.
His case will be heard by a treatment request panel.
Mr Stone said he had received a letter a few days ago saying a panel would decide if it would pay for a process called stereotactic radiotherapy.
This uses a high-intensity gamma ray beam targeted at a tumour he has buried deep in his brain.
Mr Stone was advised by his doctors that he needed this procedure because it would be too dangerous to remove the tumour using surgery.
Although there are hospitals in this country that carry out the procedure only a handful of NHS patients have been treated using the technique.
Before the ceremony Mr Stone said: "It's a fraught time at the moment especially as I'm going up to the palace to receive an MBE for services to cancer patients.
"My clinicians have to make a case to prove that I'm exceptional compared with other patients that want this same treatment."
The primary care trust said there was a lack of evidence of the procedure's effectiveness but it considers each case through its treatment request panel.
But Rose Woodward, head of patient care at the James Whale Fund for Kidney Cancer, said the procedure's effectiveness was already well established.
Survival rates
"This treatment is routinely carried out in other countries like France, Germany and Sweden which have social welfare systems," she said.
She also added that there have been patients with three months to live who have survived for four or five years after the treatment.
In 2008, Mr Stone formed the Justice for Kidney Cancer Patients. It went on to become a country-wide network.
After a year-long fight, the group managed to persuade the National Institute for Clinical Excellence to approve the drug Sunitinib which is now used to treat kidney cancer.
Mr Stone was recommended for the MBE honour by Prime Minister David Cameron, who is his MP and was presented with his medal by the Prince of Wales at Buckingham Palace on Wednesday.
Mr Stone, whose wife also has breast cancer, said his MBE was a huge honour and he was very excited about getting the award - but fundamentally it was not for him.
"It's for all the cancer patients who we've tried to help but their drugs came too late to save them," he said.