Cancer campaigner Clive Stone MBE will get treatment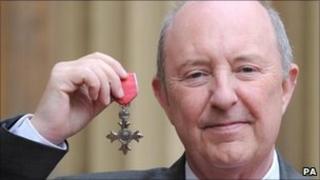 A cancer campaigner has been told he will receive treatment for his brain tumour - on the same day he was made an MBE for services to fellow patients.
Clive Stone, of Freeland, Oxfordshire, had been warned a few days earlier the treatment he needed was not a procedure which his local NHS routinely provided.
But - on the day he received his award from the Prince of Wales - a panel decided his treatment could go ahead.
Mr Stone will receive radiotherapy at a hospital in Sheffield next week.
He had received a letter a few days before Wednesday's MBE ceremony at Buckingham Palace saying a panel would decide if it would pay for the process, called stereotactic radiotherapy.
Too dangerous
Mr Stone said: "I got home late last night after the day at the palace and there was a message on my answer phone saying 'please phone Sheffield hospital where the treatment will take place'.
"So I called them this morning and they said 'Are you sitting down, because I understand you're coming up on Tuesday?'. So I am over the moon."
The stereotactic radiotherapy will use a high-intensity gamma ray beam targeted at a tumour buried deep in Mr Stone's brain.
He was advised by his doctors that he needed this procedure because it would be too dangerous to remove the tumour using surgery.
Although there are hospitals in England that carry out the procedure, only a handful of NHS patients have been treated using the technique.
His local primary care trust said there was a lack of evidence of the procedure's effectiveness but said it considered each case through its treatment request panel.
'Worrying wait'
Mr Stone said that in some respects having the decision hanging over him spoilt his day at the palace.
"It was very worrying waiting to hear if you were going to be alive in a month's time but I guess that's just the way it came about," he said.
In 2008, Mr Stone formed Justice for Kidney Cancer Patients, which has gone on to become a country-wide network.
After a year-long fight, the group managed to persuade the National Institute for Clinical Excellence to approve the drug Sunitinib, which is now used to treat kidney cancer.
Mr Stone was recommended for the MBE honour by Prime Minister David Cameron, who is his MP.
Mr Stone, whose wife also has breast cancer, said being made an MBE was a huge honour and he was very excited about getting the award - but fundamentally it was not for him.
"It's for all the cancer patients who we've tried to help but their drugs came too late to save them," he said.