Charlbury Beer Festival to hold first pub game contest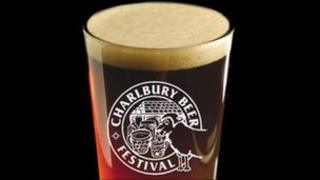 The first championship of a traditional Oxfordshire pub game will be held at Charlbury Beer Festival in July.
Aunt Sally is played almost exclusively in the county and involves throwing sticks to knock a small wooden block called a dolly off a short pole.
Organiser Nick Millea said: "We suspect that the more you have to drink the easier it gets, but we hope to find out if that's true or not."
It is hoped Aunt Sally players in Spain and Australia will compete.
Mr Millea said: "They can show how good they are if they come to Charlbury and do their stuff."
The "world champion", who like all competitors will need to strike the dolly from 10 yards (9.1m) away, will win £100 and a trophy.
The championships will be held on 9 July at Charlbury Cricket Club as part of the beer festival, which attracts around 3,000 people each year.
The beer festival was set up to raise money for the Charlbury Overseas and Community Projects charity.
Last year's festival was the 13th and the organisers gave more than £15,000 to local projects and a further £1,500 to an overseas project.
They say there are "a few places left for league players to join in and they can register via the website".