New Zealand Earthquake student's Oxford place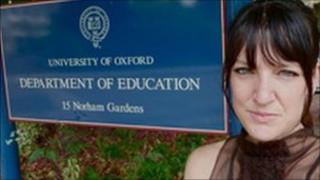 A New Zealand student studying in Oxford while her own earthquake-damaged university is rebuilt has described it as the "opportunity of a lifetime."
Bree Loverich is one of 42 students from the University of Canterbury that have come to Oxford after an earthquake struck Christchurch in February.
It was hit by a 6.3-magnitude quake which killed 180 people and destroyed large parts of the city.
In response, Oxford University offered free places for its Trinity term.
Ms Loverich, who is doing a PhD in secondary education policies, is now three weeks into her eight-week term at Oxford.
She said: "It was basically a dream come true to have an all-expenses-paid exchange to one of the best universities in the world."
'Tent city'
Her university building in Canterbury was "red stickered", which meant that it would have to be pulled down.
"We weren't going to be able to get our things out of it," added Ms Loverich.
"Some people's entire PhD projects would have been lost," she said.
Eventually they were allowed back in the building for 10 minutes, with health and safety personnel, to retrieve their belongings.
"For some people that was the first time they could see if their computers had survived," added Ms Loverich.
Ms Loverich, a US citizen, said she is keen to return to the University of Canterbury to complete her degree.
It has constructed a "tent city", a series of temporary buildings and offices for the students and staff.
But even though she will return in a few weeks she is in no hurry to leave.
"It's an opportunity of a lifetime and so impressive that such an established university would lend a hand to Christchurch University in our time of need," she said.