FA final defeat for Oxfordshire school side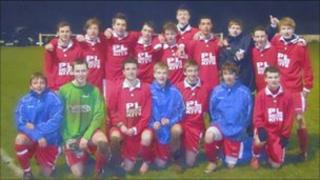 An Oxfordshire football team that reached the "schoolboy FA Cup" final, are "gutted" to have lost.
Mid Oxon schools U15s district team were beaten 2-1 by Hertfordshire's Dacorum, after extra time at the Kassam Stadium on Thursday night.
No Oxford side has ever won the competition, which is the oldest held by the English Schools' Football Association, dating back to 1905.
"They gave their best and could have won," said coach, Neil Edwards.
"The players were particularly frustrated because they dominated the game in the first half but just didn't manage to capitalise on their chances.
"The other team were more clinical, they equalised 15 mintues before time and then got the winner about five minutes before the end of extra time."
Famed alumni
The competition is considered to be the school association's flagship competition because it has been running going since it was founded.
England captains Bobby Moore, David Beckham, Tony Adams and John Terry all played in schools U15s sides.
The Mid Oxon team had never reached the final before, despite 50 years of trying.
It is one of the smallest schools groups in the country, only drawing players from 10 schools in and around the Witney area.
Oxford City was the last Oxfordshire side to reach the final of the competition in 1974. The team was beaten by Manchester at Oxford United's old Manor Ground.