Consultation opens for 800 home estate in Oxford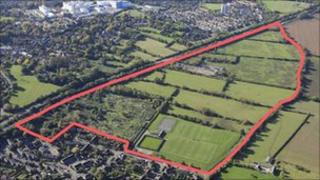 A consultation has opened on a "once in a generation" development of 800 homes, Oxford City Council has announced.
The planned project at the 90-acre (36 hectare) site in Barton, Oxford will include facilities including a new primary school.
Residents' views are also being sought on Ruskin College proposals to develop homes on 8.9 acres (three hectares) of Ruskin Fields.
The six-week consultation period will close on 24 June.
Best solutions
There will be four drop-in sessions for the public to attend.
Deputy leader of Oxford City Council Ed Turner said: "We want to hear from as many people as possible so that the best solutions are found.
"This is a once in a generation opportunity and I would encourage you to get involved."
Facilities are yet to be decided but may include a supermarket or series of smaller shops as part of a "community hub".
Sue Holden, secretary of Barton Community Association, said "it's very early days" but added: "We are looking for more than just a row of houses."
Social housing
Professor Audrey Mullender, Principal of Ruskin College, said plans for an adjacent development were at an early "master-plan" stage and she had not spoken to developers.
"That there are thousands of people on a waiting list makes us very concerned and we want to do what we can to help," she said.
Oxford City Council has nominated Grosvenor Developments Limited as its preferred bidder on the project but this still needs approval.
After the consultation, the council will submit a document to the secretary of state in early 2012.