People in Oxford urged not to swim in open water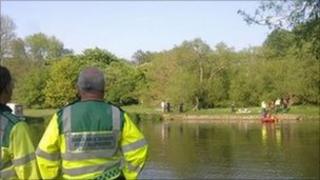 People in Oxford are being urged not to swim in open water despite the warm weather after a man died in the River Thames.
The victim's body was recovered from the Abingdon Marina on Good Friday after he had got into difficulties.
Oxfordshire's fire and rescue service issued the appeal asking people not to swim unsupervised.
The county council said the service was "often faced with tragic incidents which could have been totally avoided".
People are advised to stay away from open rivers, lakes, canals or isolated pools where there is not a lifeguard.
Paul Waknell, from the fire and rescue service, said: "If you swim in open water you are putting yourself in danger, you may get into difficulty even if you are a strong swimmer.
"There might not be anyone else around that could help you and even if there is, that person may not be able to offer immediate assistance to help you get out of danger."
The fire and rescue service warned of the danger of slipping on rocks, which can result in severe head injuries.
Open water can be cold and unexpectedly deep, the service warned.
It can also be polluted, causing illness and skin irritations.