Fixers' Jack Goldstein on EPs, touring and meeting Brian Wilson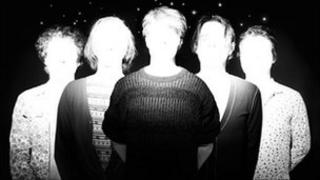 The sound of Oxford band Fixers has often been likened to that of a modern day Beach Boys.
One Guardian reviewer said they put the 60s Californian surf-poppers "in a hard-rock context" and that "Brian Wilson would be proud."
But frontman Jack Goldstein described the moment he met his musical hero as "awkward to say the least."
He told the BBC: "It was an 'I can't tear myself away from this' moment. I learnt that it's just not something I'm comfortable with."
Brian Wilson, who recently hinted at a Beach Boys reunion, was greeting fans at a show.
Jack said of the meeting with the notoriously shy and reclusive songwriter: "It was one of the rare occasions where I was probably more nervous than he was.
"He didn't want to do it and I was thinking I have to do this because it's Brian Wilson!
"At the same time I'm thinking I really don't want to because it's not my thing and I don't like meeting famous people."
Jack, who claims to own every piece of music Brian Wilson released added: "It's a lesson learnt... these people don't exist in my world, they exist in this other world where I don't meet them and I won't meet them and that's that."
Mixed feelings
Jack's band Fixers recently performed sessions for Jo Whiley and Huw Stephens at Radio 1 and were playlisted by the station.
Their four track EP entitled 'Here Comes 2001, So Let's All Head For The Sun' was released on 9 May.
The same month saw the band embark on their first UK tour but Jack admitted he had mixed feelings about the experience.
"All I've ever wanted to do is tour but now I'm doing it I've realised I don't really like it much.
"For the first couple of days it's like life out of balance and then as soon as your soul completely absconds it's like existence out of balance.
"It feels weird. It's hard to validate yourself."
Fixers play Truck Festival in Steventon, Oxfordshire on 23 July.
They plan to release their debut album in early 2011. Jack says it will have a different sound to the acclaimed EP.
"It's really going to nurture sounds more. There's some sounds on the EP I don't like. Sometimes it's overblown and sounds too big and too exuberant.
"We were like kids in a toyshop, like it was our first time in a recording studio. And we just thought if we can make it big let's make it as big as possible.
"That's the reason why it's good to do an EP before doing the album.
"Now we can reel ourselves in and say, look, if we need this kind of aesthetic for this song then let's do it, and if it means recording it on an 8 track and warping it through a VHS tape then let's do it."