1st Battalion Scots Guards awarded freedom of Wantage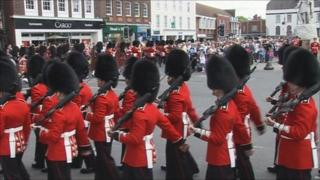 Crowds have watched a ceremony to mark the century-old link between an Oxfordshire town and army regiment.
The 1st Battalion Scots Guards was given the formal honour of the Freedom of Wantage at an official ceremony.
Both are linked through Lord Wantage of Lockinge, who was awarded the Victoria Cross after fighting in the Crimean War - the first for the Scots Guards.
The Duke of Kent, regimental colonel, received the freedom scroll from civic dignitaries on Saturday afternoon.
'Very patriotic'
Hundreds of people lined the streets to watch the soldiers march colourfully through the market place to Manor Road Memorial Park.
They also marched past the statue of King Alfred, which was given to the people by Lord Wantage, who also formed the British Red Cross in 1870.
The Victoria Cross of Lord Wantage was also on show.
Lt Col Lincoln Jopp, commanding officer, said: "It's very tangible evidence of the incredible support that we enjoy from the great British public and we felt that so strongly when we were in Afghanistan.
"I'm so proud of these men that I just relish any opportunity I can get to put them in front of the great British public.
Former mayor James Sibbald, who organised the event, said: "The town is a very patriotic town and therefore we wanted to do something to show our support for the troops.
"It was only last year that a town such as Wantage could give an honour formally."