Artist Athol Whitmore needs toy cars for hospital art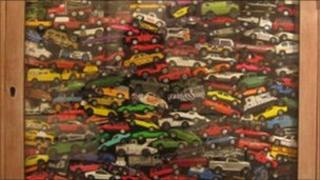 A doctoral student from Oxford Brookes University is creating artwork for a children's emergency department that is made from toy cars.
Artist Athol Whitmore wants people to donate their unwanted cars for a wall installation he intends to give to the John Radcliffe Hospital in Oxford.
Mr Whitmore said: "We had lots of people who saw my work saying they had their own cars in the attic or garages.
"I thought this would be a good way to use them creatively for the hospital."
Mr Whitmore hopes to be able to give his creation to the hospital in 2012 to coincide with the refurbishment of the department.
He added: "It's not just patients at the emergency department. Whole families go there and this type of work allows people to reminisce or connect to their childhood."
He has already received donations from visitors to his solo exhibition, Peter Pan is Dead, at Sarah Wiseman Gallery in Summertown, but is still looking for more.
Donations of cars can be made at the gallery where people can see Mr Whitmore's pieces from his original series.