Culham Primary School saved from closure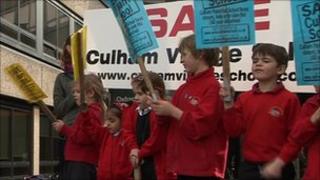 One of Oxfordshire's smallest primary schools, with just 24 pupils, has been saved from closure.
Culham Primary School near Abingdon was given a closure notice due to falling pupil numbers, difficulty finding a head, and a projected £50,000 deficit.
But county councillors agreed to keep it open after promises from parents.
They said a £20,000 grant and £15,000 in donations had been pledged as well as commitments from parents to enrol their children in the future.
Kitson Thomas, chair of the Save Culham School Campaign, said: "This whole thing has brought us together and I would like to pay tribute to council for that.
Community power
"We will get that roll up to over 40 students and we will clear the budget deficit.
"Inadvertently they [the county council] have put the whole community back together... and we're going to make this school a place to be proud to send any child."
According to Mr Thomas the projected deficit had been reduced by a £20,000 grant from the diocese of Oxford and pledges of about £15,000 from the community.
And the school had addressed the issue of falling pupil numbers, from 46 in September 2009 to 24 today, by gathering letters of commitment to enrol pupils from local parents when a new head was appointed.
The Conservative-led county council said it would monitor progress but no time limits had been put on making improvements.
Councillor Melinda Tilley, member for schools, said councillors were swayed by the way the "community came together" in a bid to get the school "back on its feet again".
She added: "When you have that much commitment from everybody involved then it would have been churlish to have done anything else."