No knives found during Oxford police crackdown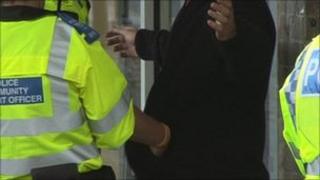 A major police operation was carried out in Oxford at the weekend in a bid to tackle knife crime, but no knives were found.
Three areas of the city were targeted by nearly 100 officers in an crackdown which lasted seven hours.
Police stopped and searched 35 people in East Oxford, Blackbird Leys and the city centre and made six arrests for drug possession.
It was part of a week-long awareness campaign to tackle knife crime.
Officers used stop and search powers in which they had to have reasonable grounds to stop someone.
'Canny hardcore'
Oxford-based criminology professor Marian Fitzgerald said the idea the operation was going to uncover a lot of knives was always going to be a "non-starter".
"Stop and search is important for uncovering weapons but it won't uncover very many," she said.
"It seems to me this operation has been as much as anything about reassurance but about deterrence as well.
"It doesn't mean it was a failure, it's more or less what you would expect."
Prof Fitzgerald said the "hardcore" group of people who carried weapons and intended to use them were "canny enough" to avoid major stop and search operations.
"You have got to have the public on side giving you the information about who you ought to be really targeting and you are not necessarily going to find that in this sort of operation," she added.
Det Insp Simon Morton, who led the investigation, said the three areas were targeted because they were the "main hubs" for youths.
"We were actually engaging with everybody (but) we were looking for young people with knives clearly," he said.
"This is all about raising awareness to stop people carrying knives."
Det Insp Morton said about £1,500 extra was spent on resources during the week-long operation, which was backed by local MPs Andrew Smith and Nicola Blackwood.