Upstairs Oxford at The O2 Academy with Spring Offensive and Phantom Theory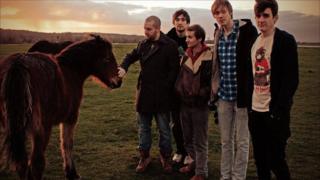 Spring Offensive and Phantom Theory will play the next Upstairs Oxford gig in association with BBC Introducing.
The bands take to the O2 Academy stage on Saturday 18 June. Both acts have been tipped by Radio 1's Huw Stephens.
They will be joined by a further three unsigned local acts: Deer Chicago, Cat Matador and Message to Bears.
Lucas Whitworth, lead singer of Spring Offensive said: "When you start playing in a band, generally you want to be on these kinds of stages."
The five piece band released their most recent EP A Stutter and a Start in April and played an exclusive performance for BBC Introducing in Oxford the same month.
Lucas added: "BBC Introducing and local promoters pretty much make the world go round as far as music in Oxford is concerned, so the fact that they've come together to showcase us musician types can only be a good thing.
"When it comes down to it, a gig like this can be hugely important for a band and for their fans.
"We're grateful for the opportunity, and ready to take it. I just wish it was tonight!"
The newest band on the bill, Deer Chicago, formed in late 2010.
Singer and guitarist Jonny Payne said: "The Upstairs Oxford gigs are a really good platform for local bands to get more coverage.
"It's great that as well as playing a larger venue, we're playing with bands we really like, or have heard a lot about."
Every third Saturday of the month a selection of local talent will play the new regular band nights, with highlights featured on BBC Radio Oxford's Introducing programme.