Oxfordshire police '300 yards from shot son of baronet'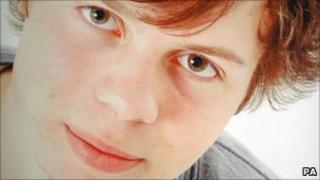 Police officers were 300 yards (275m) away from the son of an Oxfordshire baronet when he shot himself in the head, a report has revealed.
Alexander Codrington, 16, is thought to have just broken up with his girlfriend when he called her saying he had a gun and intended to take his own life.
The teenager later shot himself in woods near Leafield, on 30 July.
A report concluded that police "treated this incident with the utmost seriousness and urgency".
An inquest concluded that Alexander died as a result of a gunshot wound to the head.
Officers began a search for the school pupil after his ex-girlfriend's father raised the alarm in the early hours of 30 July.
Firearms officers, police dogs and a helicopter were dispatched after it emerged that he had taken a shotgun from his family home.
Initially, Alexander was not alerted to the fact that police officers were with his ex-girlfriend and when one of them took over the conversation he became increasingly agitated.
'Loving son'
Alexander helped officers by describing where he was, and the police helicopter later located him, and officers on the ground were sent towards him.
They were 300 yards (275m) away when he shot himself.
An investigation was carried out by Thames Valley Police Professional Standards Department, managed by the Independent Police Complaints Commission (IPCC).
IPCC commissioner Mike Franklin said: "There is no doubt that Alexander's death has had a profound effect on everybody involved - his parents, siblings, ex-girlfriend and friends.
"It is clear that Thames Valley Police treated this incident with the utmost seriousness and urgency from the start and that all those involved worked constantly to find Alexander and to try to resolve the situation safely."
Assistant Chief Constable Steve Rowell of Thames Valley Police said: "Our thoughts and prayers are very much with Alexander Codrington's family.
"The findings of [the] investigation conclude that Thames Valley Police officers and staff adhered to force policies and procedures and there was no evidence of any criminal or disciplinary offence by members of staff and that no individual person was to blame."
Alexander's father, Sir Christopher Codrington, is the 4th Baronet Codrington of Dodington Park, a title he was in line to inherit.
At the time of his death, the family paid tribute to the "loving son" and "devoted and kind-hearted brother".