Oxfordshire grandfather leaves Peruvian jail after two years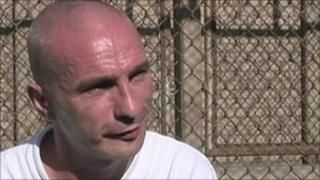 An Oxfordshire grandfather has been released from an overcrowded Peruvian jail after two years in custody.
Alan Rae, 40, from Faringdon, was arrested in 2009 and given a 14-year sentence for drug smuggling after a trial earlier this year.
He has now been acquitted on appeal and is hoping to be back in Oxfordshire for his daughter's 15th birthday on Sunday.
Mr Rae's partner, Lynn Rae, said: "This is the best birthday present our daughter has ever had."
Mr Rae was arrested when he and his travelling companion, Nathan Brandon, from Abingdon, were stopped at Lima Airport.
Brandon was found to be carrying cocaine and took full responsibility for the crime but Mr Rae was still imprisoned.
For the first year and a half in Peru he had no legal representation but the human rights charity Fair Trials International campaigned on his behalf.
Chief Executive, Jago Russell said: "An acquittal of this kind in a drugs case in Peru is extremely rare and we are grateful to the authorities for giving this case the careful attention it deserved."