'Lazy' A34 drivers cost council £20,000 a year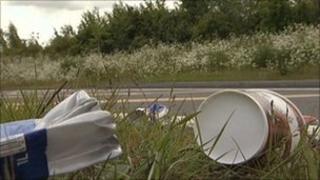 Lazy motorists who throw rubbish from their cars are causing £20,000 a year to be spent on cleaning up an Oxfordshire road.
The 12-mile stretch of the A34 from Wytham, south of Kidlington, to junction nine of the M40 near Bicester is strewn with litter.
Verges in the rest of the district cost a further £70,000 to keep clean.
Fiona Ashurst from Keep Britain Tidy said the littering was down to laziness.
"It's astounding and incomprehensible. Unfortunately it seems to have come into the mindset now as if it's acceptable to litter," she said.
'Never-ending task'
The rubbish along the busy road includes plastic bottles, sandwich wrappers and plastic bags that become tangled in plants.
The cost of removing it was calculated by Cherwell District Council.
Councillor James Macnamara, the council's lead member for environment, described the clean-up as "a never-ending task."
He added: "As soon as you've cleared the 12 miles of the A34 it's a bit like the Forth Bridge, you have to go back and start again.
"It would not be necessary for us to do this so often if people cared more about keeping their environment clean and tidy."
Much of the litter is being blamed on visitors to the district passing through.
Mr Mcnamara said: "We have to live here, we want this place to look good for us and our residents and we want to preserve it for our children so we've got to keep it clean."
In March Keep Britain Tidy called on the government to support amendments to the Localism Bill.
It would mean drivers could be fined when their passengers drop litter.