North Oxfordshire police chief to advise the government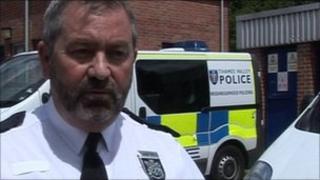 The man in charge of policing in North Oxfordshire will explain to a select committee how crime numbers in the area were reduced by 67%.
Superintendent Howard Stone said there had been a dramatic drop in burglaries, thefts and robberies.
In 1998/99 there were 2,470 of these types of crimes recorded compared to 805 in 2010/11.
An MP recommended the area commander to the home affairs select committee inquiry on effective policing.
'Significant reductions'
Mr Stone said partnerships had enabled police to run operations that had made "a big difference".
North Oxfordshire MP Tony Baldry, who recommended Mr Stone, said: "These have been real working partnerships, not simply people coming together to pay lip service to partnership."
As well as close links with Cherwell District Council and their anti-social behaviour team, police have established good links with the local magistrates and organisations providing services for young offenders.
"We've got a huge focus on offender management, particularly with regard to young people and we've seen very significant reductions in offending by those young people," said Mr Stone.