Banbury mother gives her daughter kidney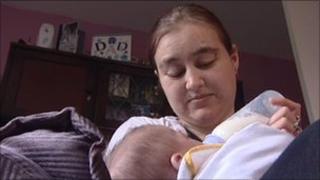 An Oxfordshire mother is going to donate one of her kidneys to her daughter after an earlier transplant failed.
Diane Wincott, 47, from Banbury, hopes the kidney will help her daughter, Jasmine Parker, 21, be well enough to care for her own children.
She said Thursday's operation was something any would mother do.
"I can give her the gift of having her life back and that's what she needs," she added.
Ms Parker currently has to attend Oxford's Churchill Hospital three days a week for four hour sessions of kidney dialysis.
During the pregnancy of her son Leo, when she was 16, doctors discovered that she was born with weak kidneys and she was forced to have a transplant.
Pregnancy puts extra strain on her kidneys and, six months ago, when she became pregnant with her daughter, Lexi, her transplanted organ began to fail.
She said: "Since I've had problems with my kidneys my life's been up and down really."
Not risk free
A person only needs one kidney to survive so a living person can donate a kidney. Ideally, this would be a close relative.
There have been more than 300 organ donations in the UK this year, including almost 80 transplants in which a living person has donated a kidney.
Kidney transplant surgery is not risk free but 80% of those who receive a live donation will live for at least five years and younger, healthier people can live much longer.
Mrs Wincott, said it was never something she imagined she would do but was keen to get the operation done.
"It's quite a shock but it's going to be for the good. Roll on Thursday," she said.