Peru drug accused Alan Rae in return home plea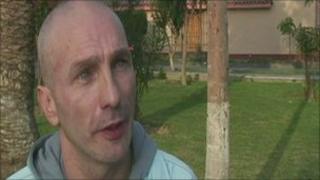 A man released from a Peruvian jail after being acquitted of drug smuggling says he wants his "nightmare" to end after failing to return to the UK.
Alan Rae, 40, from Faringdon, Oxfordshire, was arrested in 2009 and given a 14-year sentence after trial, but won an appeal against conviction.
British prisoners wanting to leave Peru must complete immigration procedures, which can take longer than a month.
The foreign office said Mr Rae was being assisted by the embassy in Lima.
'Politics and paper work'
The grandfather said: "I just want the nightmare to end, why can't I just be deported?
"They've dropped the charges against (me), surely can I not just be deported, end of, but no, I still have to wait.
"If this was in England, it wouldn't be a long process at all, it would be a couple of days, see you later.
"But here, it's all politics and paper work."
Mr Rae was arrested when he and his travelling companion, Nathan Brandon from Abingdon, were stopped at Lima Airport.
Brandon was found to be carrying cocaine and took full responsibility but Mr Rae was still imprisoned.
He was in prison for more than two years.
A foreign office spokesman said: "All British prisoners wishing to leave Peru must complete the immigration procedures required by the Peruvian authorities before they are able to leave the country.
"These procedures usually take around a month but can be longer. The British Embassy in Lima is able to assist British nationals by explaining the process and can also help with documentation."