Oxford City Council plans to regulate sales on street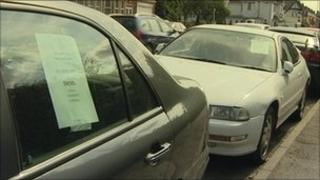 Cars for sale that cause parking problems for residents in Oxford could soon be removed under new plans proposed by the city council.
Certain streets have are no restrictions on what can be sold on the road.
The council would like people to apply for a licence to sell anything on the street.
Councillor Colin Cook said: "People were taking the mickey and parking too many cars on the road for sale."
He said they had received a number of complaints from residents in East Oxford about cars that were there for a considerable period of time.
Individuals who failed to comply with the proposed regulations could be fined or even have to go to court but Mr Cook said that the council would not be too strict.
"For individuals who are not going to be causing a problem we are not going to be enforcing," he said.