Oxford community wardens seek new powers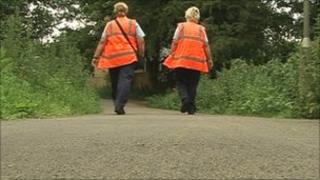 Community wardens in Oxford are seeking greater powers to tackle anti-social behaviour.
Wardens issue fixed penalty notices for littering, graffiti and dog fouling.
But they want to be able to issue fixed fines to cyclists, confiscate alcohol and tobacco from the underage and request offenders' names and addresses.
Head warden Laurie Taylor said: "This just gives us a little bit of back up in case we do come across some poor behaviour towards us."
Ms Taylor said it would be six to 12 months before wardens found out if they would be granted the new powers by Thames Valley Police.
She added: "We're only asking for a handful of powers under the accreditation.
"We currently don't confiscate because we don't have the power to. This will help us.
"Usually we can talk to groups of people and advise them that they need to be moving on or going home or that we'll talk to their parents and that works."
Figures released in June show incidents of anti-social behaviour in Oxford have decreased 11%.
During the 2009 to 2010 period the total number of incidents was 8,285. In 2010 to 2011 there were 7,359.
Supt Amanda Pearson, local police area commander for Oxford, said feedback from the community indicated that the wardens' presence was reassuring.
She added: "They're getting in early in terms of environmental crime and anti-social behaviour.
"They're able to feed back information to us about individuals who may be a problem and together we can collect information and intelligence and look at the intervention options we have available."
Elizabeth Mills, chairman of the Divinity Road Area Residents' Association in East Oxford said: "Anything that has the potential to make a difference ought to be tried, but the proof of the pudding is in the eating.
"I just find it sad that it's necessary to formalise what should in fact be the activities of any public spirited citizen."