Ruskin College library named after James Callaghan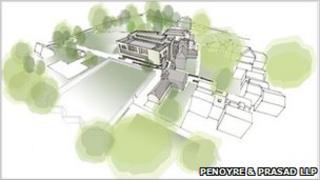 The grandson of former Prime Minister James Callaghan has laid a foundation stone at a new library named after him.
Joe Callaghan studies at Ruskin College Oxford, which his grandfather supported in his lifetime and gave a speech at in 1976.
Mike Callaghan, the former PM's son, said: "It is hard to think of anything which would have given my father more pleasure."
The Callaghan Library is part of a £5m refurbishment project.
'Very real'
Principal Audrey Mullender said: "Every student at Ruskin has a life-changing experience involving returning to learn as an adult and it is vital that we provide 21st Century level facilities to facilitate their learning journey."
Mr Callaghan added: "Jim was a great supporter of Ruskin and its objectives and ideals.
"The opportunity for a second chance to go on to further education, which Ruskin offers, was very real for my father, because it was so relevant to his own experience.
"As he said himself about his secondary school education, 'nobody talked about university at our school'."
Labour leader James Callaghan was PM from 1976 to 1979. He died in 2005.