'Handful' of arrests at Henley Royal Regatta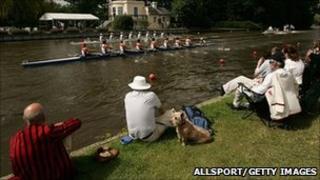 A "handful" of people have been arrested at Henley Royal Regatta, police have said.
Thames Valley Police said there had so far been 13 arrests at the rowing event at Henley-on-Thames, Oxfordshire, and across the River Thames in Berkshire.
Designated Public Place Orders were agreed ahead of the event, allowing police to confiscate alcohol if people are suspected of anti-social behaviour.
Police described the number of arrests as a "really small figure".
Ch Insp Christian Bunt, police commander for the event, said: "So far, it has been a successful operation and I hope that it will continue this way.
Attack arrests
"We have been working closely with colleagues from British Transport Police, as well as partners in the emergency services, licensees and the organisers of the regatta."
Officers said the arrests included two for drunken disorder, five over public order offences, one person was arrested on suspicion of non-dwelling burglary, three people were arrested for breaching Section 27 notices - which ban people from entering a designated area - and two people were arrested over a suspected racially aggravated attack.
The Designated Public Place Orders were put in place on both sides of the River Thames by South Oxfordshire District Council and Wokingham Borough Council.
They apply to anti-social acts such as violence, criminal damage and disorderly behaviour. Refusal to hand over alcohol could result in arrest and fines up to £500.