Fire wrecks barn at school farm in Oxfordshire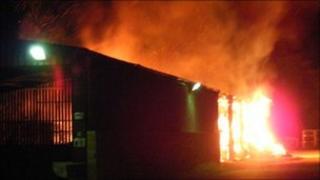 Fire has wrecked a barn at a school farm in Oxfordshire.
Crews were called to Warriner School in Bloxham at 0100 BST where a large fire was close to spreading to neighbouring sheds where animals were being kept.
Crews and equipment were called from eight stations. At its height there were 30 firefighters at the blaze.
The comprehensive school in Banbury Road has a 48 hectare (120 acre) educational farm in its grounds. The flames were contained to the barn.
A crew remained at the scene into the morning damping down and making the scene safe.