Stornoway play Oxford gig for orangutans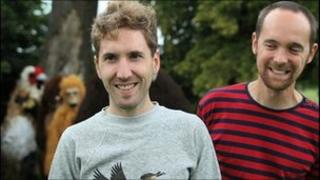 An Oxford band who played the Pyramid Stage at this year's Glastonbury have announced a concert for three of the city's conservation charities.
Stornoway will headline Concert4Conservation at The Regal, Oxford, on 3 September.
Singer Brian Briggs completed his doctorate on wildfowl conservation at Oxford University in 2008.
He said: "I've been passionate about wildlife conservation longer than I've been passionate about making music."
'Incredibly important causes'
The band have not played in Oxford since November 2010 and are currently working on their second album.
Their debut album Beachcomber's Windowsill was named as the Best British Debut of 2010 by Xfm.
The Oxfordshire-based charities the band have chosen to support are the Sumatran Orangutan Society, the Earth Trust and the RSPB.
Harry Barton, chief executive of the Earth Trust, said: "Stornoway are a fantastic band and I'm thrilled that they are supporting these incredibly important causes."
Also playing will be local bands The Epstein and The Dreaming Spires.