Four boys arrested over farm school fire in Oxfordshire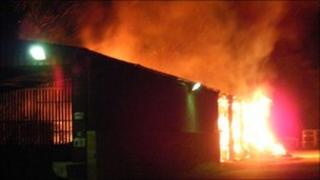 Four boys have been arrested in connection with a fire that destroyed a barn at a school farm in Oxfordshire.
Thirty firefighters battled the blaze - at Warriner School in Bloxham - which was close to spreading to neighbouring sheds where animals were being kept.
The comprehensive school in Banbury Road has a 48-hectare (120-acre) educational farm in its grounds.
Three boys aged 16 and one aged 15 were arrested on suspicion of arson and remain in police custody.