Oxfordshire farmer's milestone revamp may prompt revival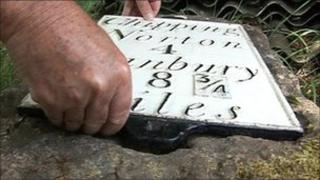 They used to be crucial for navigation through Oxfordshire, but the more than 1,000 milestones on its roads now number fewer than 100.
But now, the work of a farmer to restore one to its former glory could spark moves to preserve more.
David Barbour, from Heath Farm near Chipping Norton, used a tractor to rescue the stone after it was damaged in a car crash.
Teaming up with the county's Milestone Society, Mr Barbour has created a replacement face plate for the stone and re-erected it at the site.
Road accidents are not the only things that have proved damaging to the milestones - many were destroyed during the war, in case they were useful to invading German armies.
And those that did survive have largely been forgotten and left in the long grass on verges, often being damaged by mowing equipment.
"It's all part of our history," said Mr Barbour. "I'm a country person and I like to see these things and it just struck me that [refurbishing the milestone] was an important thing to do,".
The stone is originally from the former Banbury-to-Chipping Norton-to-Burford road, which was maintained by a turnpike trust - a tradition of the times - that was formed in 1770.
The trust would have collected tolls to maintain the road.
Robert Caldicott, of the society, said it was now the legal responsibility of the local authority to maintain the milestones.
"The Oxfordshire highways authority have been helpful to us but we respect the fact that in these straitened times they don't necessarily have the funds to do this work," he said.
"So it's good to find other people willing to turn their hands to getting the work done."
The nearby Hook Norton Brewery museum has lent Mr Barbour and the Milestone Society a similar plate from the same turnpike trust.
They will use it to cast a replica plate using the original design.
Mervyn Benford, author of the book Milestones, said it was important to preserve the stones.
"It may not seem significant today to know that you've covered another mile but 300 years ago when you were travelling on bumpy, muddy, wintry roads - the fact that you'd got one less mile to do was very important.
"They are now the major evidence we have of that story of early travel," he said.