Wantage primary school pupils left at wrong bus stops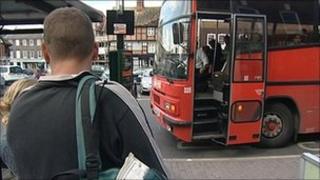 Parents of pupils in Oxfordshire have complained children are being "abandoned" by school bus drivers.
One parent, who did not wish to be named, told BBC Oxford her four-year-old daughter had been left at the wrong stop in Wantage.
She said: "We panicked for 20 minutes until she appeared with another parent. We complained but nothing was done."
A statement from the Heyfordian Group, which runs the service, said drivers strictly adhered to the agreed route.
Oxfordshire County Council said it had been made aware of the issue and was working to resolve it.
Former district councillor for Wantage, Joyce Hutchinson, said she had heard of about half a dozen cases of children being left in various places or left before their parents had turned up at agreed picking-up points.
'Driver misunderstood'
She said: "The driver is not supposed to leave the child until he's handed it over to a responsible person.
"In one particular case it was because the driver misunderstood and thought he could not get his bus to the drop-off point on that particular day and took another route and dropped a child off at another point without the parent knowing."
Speaking for the joint bus group, managing director Jeremy Smith, said: "All drivers are issued with route sheets detailing specified points and timings which can only be altered by the county council school transport office."
A county council spokesman said: "It is in the interests of all of the organisations involved, the children and the parents for a satisfactory outcome to be reached as soon as possible."