Oxfordshire child dental inequality revealed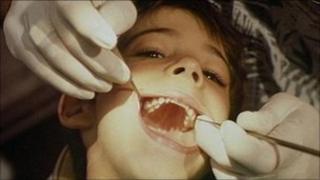 Hundreds of children in deprived areas of Oxfordshire are having teeth extracted because of poor dental health, according to an NHS report.
Parts of Banbury and North East Oxford were shown to be particularly bad.
During school visits volunteers found some children that did not even own a toothbrush.
The report's author, Nicky Wadely, said it was "worrying", and one of the reasons they were trying to encourage people to use an NHS dentist.
The report reveals that overall, access to NHS dentistry in Oxfordshire has improved.
More than 53% of the population can now see an NHS dentist, which is an increase of 48,505 since December 2007.
But it also says averages hide "oral health inequalities" and a small proportion of the population still "experiences a high proportion of dental disease".
In the last recorded year (2009-2010), 545 children had teeth extracted under general anaesthetic across Oxfordshire.
The highest proportion of these, 22%, came from Blackbird Leys and the surrounding areas.
'Ready and waiting'
In Banbury the numbers almost doubled from the previous year with 98 children now having operations.
Ms Wadely said that there was a perception that there were not enough NHS Dentists in the county.
But she added: "We have a new practice that has opened in Banbury and similarly in Oxford - the dentists are there ready and waiting."