The Scholars headline Upstairs at the O2 Academy Oxford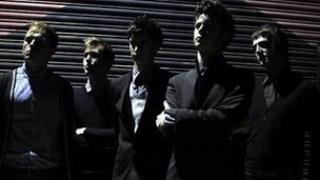 The BBC Introducing live nights at Upstairs at the O2 Academy Oxford continue with a headline performance from Banbury band The Scholars.
The Saturday night gig on 16 July will also feature Dead Jerichos, Peers, Von Braun and The Manacles of Acid.
Speaking ahead of the gig The Scholars guitarist Tim Mobbs said: "We'll do everything we can to maintain the gold standard."
BBC Introducing in Oxford gave The Scholars their first radio play in 2009 and secured them a slot at Truck Festival the same year.
Tim Mobbs added: "Even at the time we all considered it to be a major turning point and the moment we decided to take the whole thing seriously.
"To know the BBC Introducing programme is always behind us keeps us going and we're hugely indebted to their constant hard work and enthusiasm.
"Without them I don't think we'd still be here, or at least miles behind where we are at the moment."
'Grand ambition'
The band have also been tipped by Tom Robinson from BBC 6 Music.
They released their Arrival/Departure EP in April.
Nightshift Magazine described it as sounding like "big-budget, major-label produced, second album material, set for big-time MTV rotation and festival sing-along status, beyond the scale of what you'd expect from an unsigned bunch of local youngsters.
"Such grand ambition is admirable and audacious."
Also on the bill is lesser known electronica band The Manacles of Acid who describe themselves as "transistors from 30 years ago, banging out music from 20 years ago, written by 10 year olds, listened to by toddlers."
Tim Midlen, from the band, said: "We're looking forward to playing one of the most established nights in the Oxford calendar with some of the best local bands Oxford has to offer.
"As the only electronic artist playing it will be nice to play in front of a different audience and hopefully gain a few more fans from it, fans who normally wouldn't listen to electro at all."
The gig's organisers have also taken advantage of the nation's BBC Introducing network to present Reading band Peers to Oxford audiences.
The band played memorable shows at last year's Reading and Leeds Festival.
Every third Saturday of the month a selection of local talent will play the new regular band nights at the O2 Academy, with highlights featured on BBC Radio Oxford's Introducing programme.