Ardley waste incinerator campaign loses legal challenge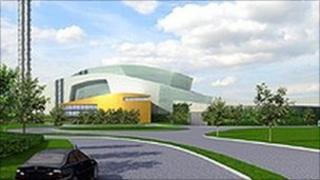 A legal challenge to a planned waste incinerator in Oxfordshire has been rejected in the High Court.
Campaigners had mounted a statutory appeal against government approval of the proposed plant at Ardley.
Oxfordshire County Council welcomed the decision, saying the plant would generate electricity for more than 38,000 households.
The Ardley Against Incinerator group said: "We left no stone unturned in seeking to protect our communities."
Viridor Waste Management believes it can turn 300,000 tonnes of waste into electricity every year, diverting at least 95% of the county's non-recyclable household waste away from landfill sites.
'Strong public interest'
Secretary of State for Communities and Local Government Eric Pickles agreed to the plans in February after the planning inspector said there was a "pressing need" for such a facility and there would be no significant harm to health.
The county council's cabinet member for growth and infrastructure Lorraine Lindsay-Gale said: "We wholeheartedly welcome the court's common sense decision to reject this legal challenge. We hope that Ardley Against Incineration will now accept this decision and not cause any further unnecessary delay and expense.
"It was a matter of strong public interest that this issue was resolved as soon as possible and this positive outcome will now enable the Ardley facility to be delivered, bringing real environmental and financial benefits to Oxfordshire."
Around £50,000 was raised by local residents to fund the campaign against the plant. Concerns were raised over emissions from the plant and whether wate would be "imported" from outside Oxfordshire.
Ardley Against Incinerator chairman Jonathan O'Neil said: "It was a lot to spend but the point was local residents across Oxfordshire really believed in the cause we had. They believed we were doing the right thing."
The group said it would ask Cherwell District Council to closely monitor air quality levels when the plant was operating.