Work on memorial garden near RAF Brize Norton to begin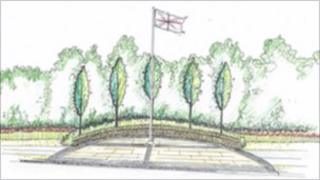 Building work is to start on a memorial garden where people can pay their respects to fallen soldiers when repatriations move to RAF Brize Norton.
The Royal British Legion is helping to design the garden at Norton Way, near Brize Norton village and Carterton, Oxfordshire.
Work is expected to start at the site on Monday.
Repatriations previously went through RAF Lyneham but it is due to close in December.
Carterton mayor Norman MacRae said the site, which opens in September, would be "solemn, respectful, dignified and safe".
The Union Flag will be flown at the garden on the days repatriations to the John Radcliffe Hospital take place.
Trees and poppies will be planted around it.
New route
Mr Mike Henderson, Oxfordshire county chairman for the Royal British Legion, said: "It is our belief that the memorial garden will become a fitting place for all members of the public wishing to gather silently as the corteges pass.
"It will be a focal point for people in Oxfordshire and beyond."
When repatriations went through RAF Lyneham funeral corteges would drive past crowds paying their respects in Wootton Bassett, Wiltshire.
When it was announced the new route would avoid Carterton town centre it sparked anger in some quarters and a Facebook campaign.
Defence Minister Andrew Mr Robathan said the RAF was spending £3.2m on a repatriation centre for the bereaved and that the families of those killed must be the "focus of our attention".