Combe Mill in Oxfordshire gets lottery grant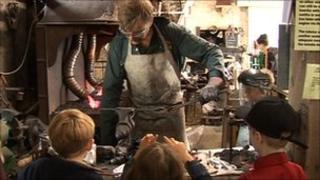 A Grade II listed sawmill and working industrial museum in Oxfordshire is to receive a lottery grant so it can update its premises.
Prime Minister David Cameron, who is MP for Witney, said Combe Mill on the Blenheim World Heritage site had could become a "major attraction."
Combe Mill Society Chairman, Tony Simmons, said the money would be used to fix the fabric of the building.
He added much of the £768,000 grant would also improve the exhibits.
There was a mention of a mill at Combe in the Domesday Book in 1086 but the current building dates to 1852 when it was built as a dual powered sawmill run by both water and steam.
The attraction allows visitors to see the working machinery and there is forge where children can help make pokers.
In August the society will know if it will get a further £30,000 from West Oxfordshire District Council.
The museum is open Wednesday and Sunday throughout the year, and additional opening days are planned once the works are complete.
The mill is in steam on the third Sunday of each month.