'Increase' in foreign national weddings in Oxfordshire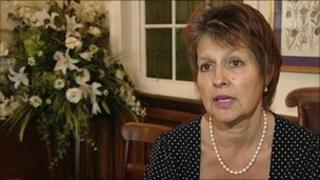 There has been a 70% increase in foreign nationals wishing to marry EU citizens in Oxfordshire, according to the county's superintendent registrar.
Alicja Gilroy said it had happened since the requirement for a certificate of approval was withdrawn in May.
She said: "Whether all of those are sham marriages or not it is hard to say."
Immigration Minister Damian Green said in response that the UK Border Agency had "upped enforcement rates".
He added that it was also being made easier for registrars to report suspicious marriages.
Ms Gilroy said there were repeated instances of couples not knowing obvious facts about one other.
"Those that perhaps you could question a little bit are where they don't speak the same language... and you think to yourself, well what is the relationship based on?"
'International criminals'
The requirement for the certificate was abolished on 9 May by the European Court of Human Rights because it did not apply to the Anglican Church, according to Ms Gilroy.
She said people getting married in the Church of England were not subject to immigration control and added it would have been more sensible to apply the regulations to the Church.
"If the foreign national marries a European they are then able to apply for a European family residence permit and, even if the marriage should end, they retain that family residence permit and it gives them the right to remain in this country," she said.
The Church of England said the certificates were not abolished by the European Court of Human Rights but by the government, with the approval of Parliament.
A spokesman said: "They foundered for reasons that were nothing to do with matters of church or religion.
"We would have been happy to work with such a system had it been reformed rather than abolished."
Mr Green conceded that there had been a rise in the number of sham marriages over the past few years.
He said: "What these international criminals do is search for loopholes in the immigration system and as one gets closed down they will look for another one."