Illegal workers found at Oxfordshire and Twickenham restaurants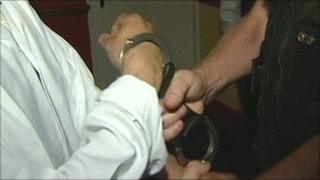 Sixteen people have been discovered working illegally at four restaurants.
They were found in Twickenham, west London and Woodstock, Chipping Norton and Henley-on-Thames in Oxfordshire.
Seven were put in detention pending their deportation and eight were granted immigration bail while their cases are processed.
Another had an outstanding application lodged with the Home Office and was not arrested.
The raids took place on Thursday evening at the Jaan in Woodstock, the Café le Raj, Chipping Norton, the Café Le Raj in Henley-on-Thames and the Twickenham Tandoori in south west London.
Of those arrested, 13 were Bangladeshi, one was Burmese and one Bhutanese.
The establishments are under joint ownership and face a fine of £10,000 for each illegal immigrant.
Terry Gibbs, from the UK Border Agency, said: "All the restaurants were employing illegal workers so it was certainly a successful evening for us."