Allandale Centre in Carterton gets RAF Benevolent Fund money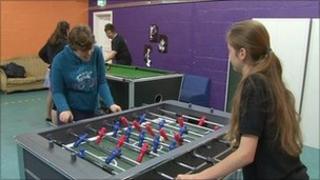 An Oxfordshire youth club threatened with closure will receive funding from the RAF to employ youth workers.
The Allandale Centre in Carterton near RAF Brize Norton lost its Oxfordshire County Council funding but the RAF Benevolent Fund has stepped in to help.
In a statement a spokesman said it was "proud to support the RAF family, both young and old".
The centre also recently received one-off funding from the council's Big Society Fund for refurbishment work.
Adrian Coomber, deputy mayor of Carterton, said the extra money was needed because more families were moving to the town as personnel were relocated to RAF Brize Norton from RAF Lyneham.
'Relieve the strain'
"At the moment Carterton stands at around 16,000 people and that's due to increase," he said.
"Because it's so close to the RAF base we've got a lot more younger families and therefore a lot more young people in the town."
Rosie Herridge, who uses the centre, said children found it a helpful place to deal with the reality of their parents serving overseas.
"They can get upset but because we've all been through it we can help them," she explained.
"If we didn't have this centre there would be a lot more people round the parks and on the street and so it is best to keep this place open."
Paul Hughesdon, director of welfare and policy for the RAF Benevolent Fund, said: "We have agreed to fund the provision of trained youth workers at RAF Brize Norton, to support the work of the community support team at the station youth club and elsewhere."
The RAF Benevolent Fund is running a national £24m youth support programme called Airplay to help "relieve the strain on parents at home and on the front line".