Arson suspected at Fairmile Hospital site in Cholsey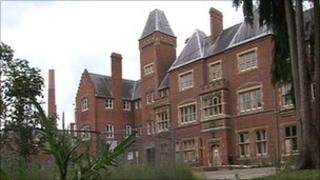 A house has been destroyed in a suspected arson attack at the site of a disused psychiatric hospital.
Redevelopment work had started on a new housing development at the former Fairmile Hospital, in Cholsey, Oxfordshire.
About 40 firefighters were called to the 40-hectare site at 00.59 BST and found the three-storey, semi-detached house completely alight.
They were unable to stop the blaze destroying the house.
Station manager David Bray from Oxfordshire Fire and Rescue Service, said: "Any fire on a construction site is always challenging due to the risks involved with buildings that are at various stages of construction, as any fire is able to decimate what internal structure is present due to the exposure of readily combustible materials.
"However, because access was possible around the site, and fire hydrants were already present in what will be the roadways when the site is completed, everything worked in our favour, enabling us to minimise the disruption."
Thames Valley Police are investigating the incident.