Buried religious silverware found by PC in Oxfordshire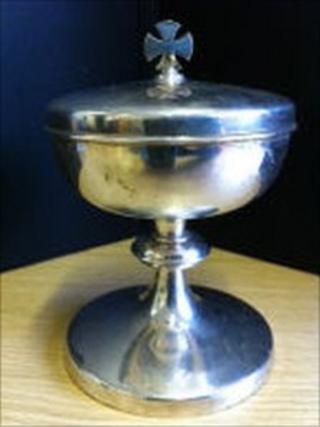 A silver chalice and wafer holder thought to have been stolen from a church have been found in Oxfordshire.
PC Jonathan Shaw found the silverware buried behind a barn between Newington and Drayton St Leonard on Tuesday.
It is thought the items were dumped months, or even years ago, as they were very dirty, Thames Valley Police said.
PC Shaw said: "I would like to give these items back to the rightful owners but they will have to show some evidence to prove that it is theirs."
He said the chalice and wafer holder needed cleaning before photographs could be taken of them.
Anyone with information about the silverware, which was found at about 08:00 BST, should contact Thames Valley Police.