RAF Bicester museum campaign is stepped up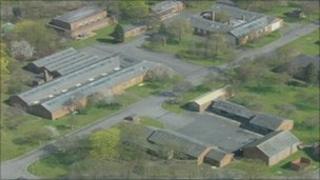 A campaign to turn a mothballed RAF airfield in Oxfordshire into a museum is being stepped up as fears grow that the buildings could crumble.
RAF Bicester has many listed buildings from the early 20th Century.
Campaign group Bomber Command Heritage (BCH) has campaigned since 2005 for the site to be turned into a museum of the Bomber Command story of World War II.
The MoD said it had to resolve the site's future, including tracing former landowners, which could take time.
BCH say that because RAF Bicester's layout has not been changed since World War II, it is the best example of a historical RAF site in the UK.
The air base was predominantly used as a training site but became redundant in 2004. It is now only used as a base for gliding clubs.
Dean Overton, chairman of BCH, said: "It would be wonderful for Bicester to be known not just as a shopping village, to be known also for its cultural heritage.
'More of a soul'
"Wouldn't it be wonderful if Bicester had its own Bomber Command museum, the only proper, solely-dedicated Bomber Command museum in the whole of the country, if not the world?"
Bicester Chamber of Commerce is also supporting the campaign by BCH, which is currently applying to become a registered charity.
Ben Jackson, chairman of Bicester Chamber of Commerce, said: "Something like this gives the town more of a heart, more of a soul.
"If you get that emotional attachment you'll get more buy-in to support the economy of the town as well."
In a statement, the MoD's Defence Infrastructure Organisation said it was working to establish who was the previous owner of the land.
The Crichel Down Rules means the MoD needs to trace former owners, or their successors, so they can be advised of the decision to either offer the land back at market value, or not to have it offered back if exceptions apply.
"We are working hard to deal with the issues that surround RAF Bicester. This includes resolving the former owner issue," the statement said.
"The process is ongoing and complex, making timescales unpredictable. We haven't decided on our disposal strategy - whether to offer the site to the former owners or sell on the open market."