Dominic Utton emails First Great Western for each delay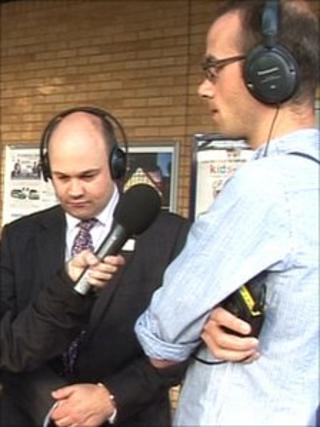 A train commuter became so angry at regular delays - he has pledged to write a complaining email every time his service is late.
And Dominic Utton, who travels from Oxford to work in London, has vowed to make the length of his rant correspond to the time he spent waiting.
In one instance, he turned a 30-minute delay into a 1,000-word diatribe against First Great Western (FGW).
The rail firm's managing director said the line is being improved.
Mr Utton, who has put all his emails together on a blog, said he began to write after becoming frustrated with the delays on his commute to work as a journalist for the News of the World.
Now working for The Sun, Mr Utton said he has been using the service for about a year and said he was being delayed by FGW about three times a week.
He said: "Every day the trains are delayed, I just got increasingly frustrated and so I thought I'd do something about it."
So since the end of June Mr Utton has been writing to the managing director Mark Hopwood and the director of communication Sue Evans.
He said: "The length of my email would reflect the length of the delay and the idea is that I would waste their time just like they are wasting my time."
'Completely amazed'
Colleagues at work encouraged him to post the emails on a blog and after receiving some interest on Twitter his site has had more than 4,000 hits in the last couple of weeks.
In one sarcastic email to Mr Hopwood he began: "Three minutes. 'Oh come on!' you're thinking. 'Give us a break! Cut us some slack! Three minutes? What's three minutes?'"
The longest he has been delayed since June is 35 minutes when he wrote about 1,000 words.
In total he has sent 11 emails and had nine responses from Mr Hopwood himself.
"I was completely amazed I got a response.
"I just thought I'd keep it up forever. For as long as I'm being delayed I thought I would just keep sending these letters. It's a kind of don't-get-mad-get-even situation."
Mr Hopwood acknowledged the Oxford-to-London line needs to improve saying the company was working hard with Network Rail.
He added that work on the Cotswold line to put back double track removed in the 60s would see improvements to the service in September.