Oxfordshire farmers warn of damage from illegal raves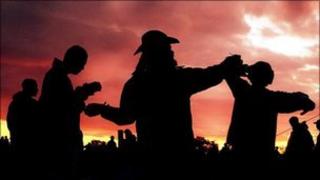 Farmers have warned of the damage from illegal raves after police cleared 2,000 people from a gathering in Oxfordshire on Sunday.
John Archer from the National Farmers' Union (NFU) said raves like the one near Cholsey, Wallingford, can cause extensive damage to gates and crops.
"After 2,000 people have trampled on a hay crop it's no good," he said.
He added that he knew of "half a dozen" similar events to have happened in the region this summer alone.
"We see damage to crops, gates and fences, but the biggest cost can be cleaning up afterwards - it's like flytipping."
Intelligence gathering
He said efforts to block access to private land would only delay entry by the party-goers, not stop it.
"There isn't much farmers can do, but the effort is more into gathering intelligence - trying to stop it happening in the first place," he said.
Sunday's rave caused disruption in the nearby village of Cholsey, according to Cholsey Parish Council.
James Butler from council said: "The site was right on a junction with a main road and two other roads which were all closed, so it meant quite a significant diversion of five or six miles, round trip.
"To me [the illegal rave] sounded like it was someone playing loud music in a car."
Thames Valley Police said they received a "significant" number of complaints during the illegal rave.
A spokeswoman said the music was turned off during the afternoon and the scene eventually cleared by 19:00 BST.
The force confiscated sound equipment from the site and said one person was arrested after a bottle was thrown at an officer.