More speeding fines in Oxfordshire since camera switch-on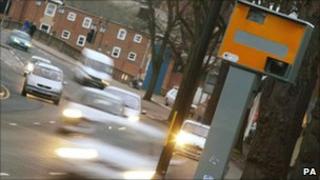 There has been a "significant" increase in speeding offences in Oxfordshire since cameras were turned back on in April, according to the police.
Between April and June almost 11,000 fixed penalty notices were issued - more than twice as many as were issued in the same period in 2010.
The county's cameras were switched off between August 2010 and March 2011.
Ch Insp Gill Wootton, from Thames Valley Police, said it indicated a change in driver behaviour.
She added: "It isn't a surprise, it's disappointing."
Ellen Booth, from the road safety charity Brake, said the decision to switch off the cameras seemed to have affected driver behaviour.
She added: "So when the cameras were switched back on more people were caught."
The figures also showed the "killed and serious injury" rate had increased in Oxfordshire slightly compared to Buckinghamshire and Berkshire.
But Ch Insp Wootton stressed that it was difficult to prove a causal link because of the small geographical area and period of time.
The chief driving examiner from the Institute of Advanced Motorists [IAM], Peter Rodger, said the Oxfordshire statistics ran against the trend of other surveys.
He added: "If anything we are finding that more drivers are inclined to stick to the speed limits - primarily because of rising fuel costs."
He said to understand the statistics properly it was important to know if the policing effort had increased.
In April the most images taken by a single camera was on the Oxford Road in Woodstock, which took 1,701.
It was closely followed by the camera on the Woodstock Road in Oxford where 1,278 images were taken.