Alphabet Backwards headline Upstairs at the O2 Academy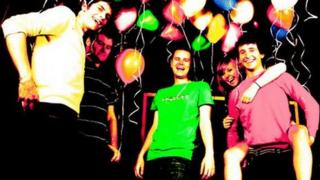 Pop band Alphabet Backwards will headline the next Upstairs at the O2 Academy gig in association with BBC Introducing in Oxford.
The show on Saturday 20 August will also feature The Half Rabbits, Anchor And The Wolf, The Cooling Pearls and Nairobi.
James Hitchman, lead singer of Alphabet Backwards, said he was "humbled" to play the night.
He added: "It's a showcase for everything the city has to offer across many varying genres and so to be offered to play one of these nights is pretty special."
Musicinoxford.co.uk recently said of the band's White Russian EP: "Buy it, keep it, file it and then dig it out when the band are touring the world."
One of its songs, Elton John, featured a cameo by local BBC TV and radio presenter Wesley Smith.
The band's influences range from Paul Simon and Kylie Minogue to Finley Quaye and The Postal Service.
"We all grew up in the late 80s and early 90s and so it's always synths that lead us through," Hitchman explained.
He said the band planned to release another EP in 2011 before an album in the new year "to cement our pop sound."
Second on the bill are brooding Oxford rockers The Half Rabbits.
Speaking ahead of the gig frontman Michael Weatherburn said: "We're delighted that we were asked to play. We released our debut album at the Academy last year and it's definitely one of our favourite venues in the country.
"Plus, BBC Introducing have always been really supportive of us.
"We're also looking forward to seeing all the great bands on the night.
"Oxford has such a thriving and diverse music scene which seems to only get better by the day."
Also taking to the stage are new folk collective The Cooling Pearls featuring members from We Aeronauts and The Mountain Parade plus new "mafro beat" band Nairobi.
The bill also boasts an act recommended by BBC Introducing in Wiltshire in the form of Swindon folk four-piece Anchor And the Wolf.
Every third Saturday of the month a selection of local talent plays the regular band nights at the O2 Academy, with highlights featured on BBC Radio Oxford's Introducing programme.