Campaign for military repatriation route memorial bell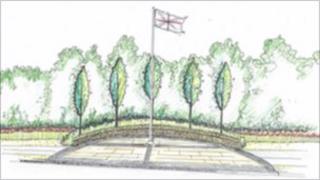 A campaign has begun for a memorial bell to remember UK military personnel killed overseas as their bodies are repatriated.
The Royal British Legion is raising £18,000 for the 644lb (292kg) bell in a memorial garden being built near RAF Brize Norton, Oxfordshire.
The bodies of killed service personnel will be repatriated into RAF Brize Norton from the autumn.
Repatriations previously went through RAF Lyneham but it is due to close.
Mike Henderson, county chairman for the Royal British Legion, said: "The proposal to install a memorial bell will ensure repatriations in Oxfordshire are dignified."
No church
Currently the bodies of the repatriated personnel are carried in hearses through the town of Wootton Basset, Wiltshire, to hospital in Oxford.
Residents of the town famously line the streets to pay tribute.
The memorial garden near RAF Brize Norton is part of plans to create a similar tribute along the new route the hearses will follow. The garden is due to open in September.
The idea for the bell was proposed by Lee Mackie, the mother of Jason Mackie, a Royal Marine killed in Afghanistan in 2009.
She said she thought it would be a good idea because there was no church in the vicinity.
The bell will be made by the Whitechapel Bell Foundry which was founded in 1405.
The plan is to produce a replica of the bell that was sent to New York and placed at the site of the terrorist attacks on the World Trade Centre in 2001.